Support DigitalDrStone!This site is a free service for Polarity Therapy practitioners, students and teachers, with the intention of expanding Polarity Therapy by making it more accessible. It is owned and operated by a non-profit organization, EnergySchool Foundation, with the support and permission of numerous other individuals and corporations as described in the Acknowledgements section. Please consider making a tax-deductible donation to support our continued presence by using this Paypal button to send a contribution.
Polarity Therapy Volume 1, Book 2

Chart No. 5 - Electro-Magnetic [Electromagnetic] Waves of the Body and Their Polarity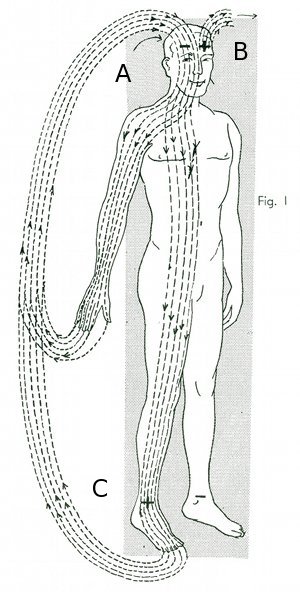 (A) Downward flow from negative pole anterior
(B) Upward flow from positive pole anterior to posterior negative on head.
(C) If the foot was flexed anteriorly the top or bony portion would reflect to the posterior with which it polarizes.
Fig.3 gives the key to determine the flow of the waves of the electro magnetic [electromagnetic] energy with the patient face down or up. Insert an imaginary crank in any joint as shown here and give it a right hand clockwise turn and the circuit is clearly demonstrated. The operator stands on the side tested.
These waves change polarity at the ankle where the current goes forward on the foot. The crossing over of the current polarity at this point anteriorly makes the ankle a flexible joint. In the energy field all joints are neuter [neutral] points.
The waves of electro magnetic [electromagnetic] lines of force in the human body arising from the center core and the brain polarity, whirling in opposite directions. Anterior and posterior.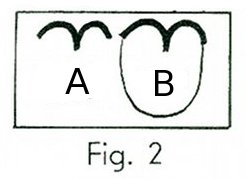 (A) Sign of Aries

(B) Brain
These long waves flow on the surface and through the muscular structure of the anterior and posterior half of the body. They respond to stimuli mostly at the polar extremities, and reflex from the neuter [neutral] pole.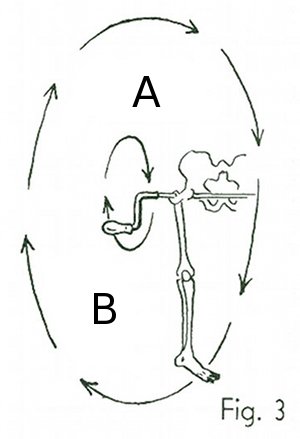 (A) Right hand turn from center weight
(B) Operator facing patients [patient's] right side
Illustration Keywords: +, -

Book 2, Chart 4 ~ Book 2, Chart 6
American Polarity Therapy Association
Copyright 2012 EnergySchool Foundation
Text & images from Randolph Stone, Polarity Therapy Vol. I & Vol. II, CRCS PO Box 1460, Sebastopol, CA 95473
Thanks to the American Polarity Therapy Association and CRCS Publications for supporting this project.