Support DigitalDrStone!This site is a free service for Polarity Therapy practitioners, students and teachers, with the intention of expanding Polarity Therapy by making it more accessible. It is owned and operated by a non-profit organization, EnergySchool Foundation, with the support and permission of numerous other individuals and corporations as described in the Acknowledgements section. Please consider making a tax-deductible donation to support our continued presence by using this Paypal button to send a contribution.
Polarity Therapy Volume 1, Book 2

Chart No. 52 - Exercise for Opening Nostrils and Sinuses - Relief of Head Congestion.
A brand new approach to exercise for opening the sinuses and nostrils and to relieve that stuffy feeling in head colds.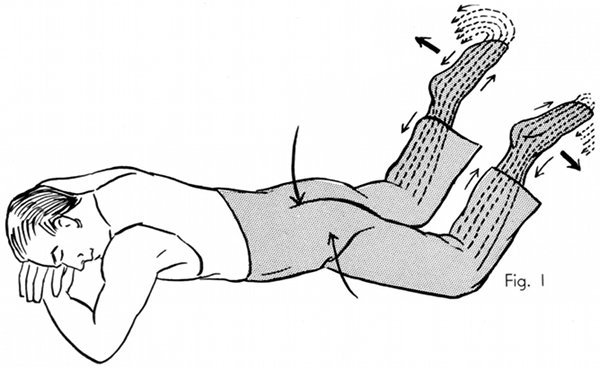 The position is face down with the legs flexed and the feet swung outward as far as possible until there is a strain felt in the hip joint and sacroiliac articulation.
Then swing the feet past each other medially, and outward again. Repeat this for 5 [five] or 10 [ten] minutes, several times and the head will clear and the nostrils will open. It can be done on the floor or on the bed and repeated as often as needed.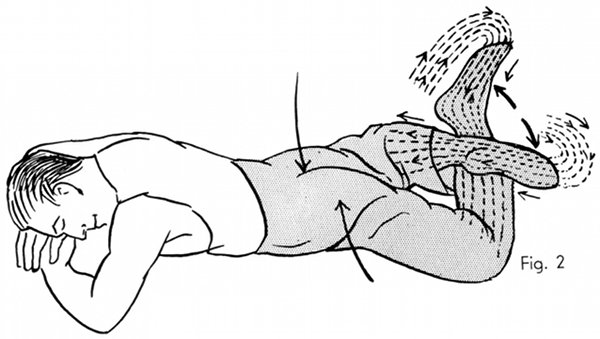 The factors that produce it are first: the pumping action of the hip joints and muscles stimulating the sacral center and fluids reacting upon the medulla oblongata and the cerebellum. The serpent force of the sun and moon energies or the caduceus from the brain are activated at the negative pole, which opens the breathing centers in the head.
The other point is the fact that the feet in the motion of crossing each other cut the electro-magnetic [electromagnetic] lines of force emanating from them, acting like a dynamo in producing a muscular tone effect on the body. This demonstrates the fact of the inferior producing an effect upon the superior by the return current flow.
Additional Keywords: scissor kick, scissors kick

Book 2, Chart 51 ~ Book 2, Chart 53
American Polarity Therapy Association
Copyright 2012 EnergySchool Foundation
Text & images from Randolph Stone, Polarity Therapy Vol. I & Vol. II, CRCS PO Box 1460, Sebastopol, CA 95473
Thanks to the American Polarity Therapy Association and CRCS Publications for supporting this project.