Support DigitalDrStone!This site is a free service for Polarity Therapy practitioners, students and teachers, with the intention of expanding Polarity Therapy by making it more accessible. It is owned and operated by a non-profit organization, EnergySchool Foundation, with the support and permission of numerous other individuals and corporations as described in the Acknowledgements section. Please consider making a tax-deductible donation to support our continued presence by using this Paypal button to send a contribution.
Polarity Therapy Volume 1, Book 3

Chart No. 6 - Primary Fields of Space Circles as Body Cavities with Their Cross Over [Crossover] Polarity Lines of Energy and One Neuter [Neutral] Center in Each. The Chest Represents the Physical Field of Airiness and Respiration. The Energy Aspect of the Airy Element is Usually Attributed to the Mind, the Brain, and the Nervous System, Prior to Physical Function.
| | |
| --- | --- |
| (A) Fire element | (F) Primary vital mind pattern |
| (B) Neuter [Neutral] | (G) Etheric |
| (C) Air element | (H) Respiratory and circulatory system |
| (D) Earth element | (I) Digestive system assimilation elimination |
| (E) Water element | (J) Genito-urinary [genitourinary, urogenital] system |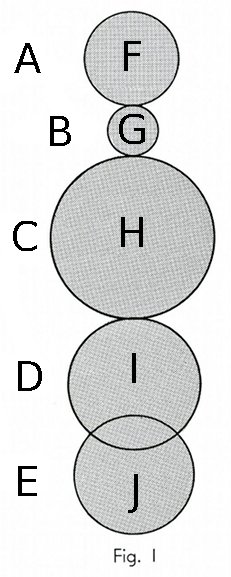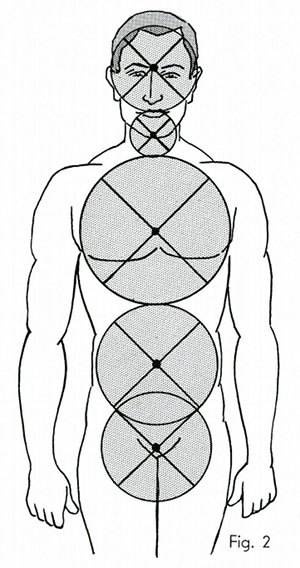 Book 3, Chart 5 ~ Book 3, Chart 7

Book 3, "Explanation of Chart No. 6"
American Polarity Therapy Association
Copyright 2012 EnergySchool Foundation
Text & images from Randolph Stone, Polarity Therapy Vol. I & Vol. II, CRCS PO Box 1460, Sebastopol, CA 95473
Thanks to the American Polarity Therapy Association and CRCS Publications for supporting this project.