Support DigitalDrStone!This site is a free service for Polarity Therapy practitioners, students and teachers, with the intention of expanding Polarity Therapy by making it more accessible. It is owned and operated by a non-profit organization, EnergySchool Foundation, with the support and permission of numerous other individuals and corporations as described in the Acknowledgements section. Please consider making a tax-deductible donation to support our continued presence by using this Paypal button to send a contribution.
Polarity Therapy Volume 2, Book 6

Chart No. 4 - Evolutionary Treatment Applied
It distributes the fiery energy of digestion, aids circulation and current flow.
A single contact on the sole of the foot can also be used with the umbilical contact
The umbilicus is the potential life center from birth
Excellent therapy for heart, kidneys and digestive organs
The umbilical contact releases the fire of oxidation and circulation from the center to the circumference.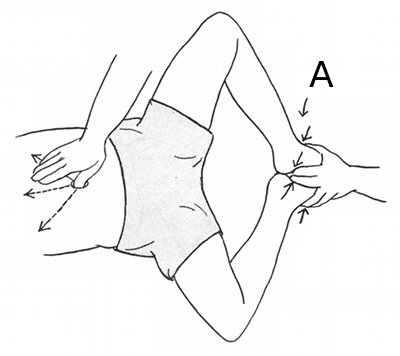 (A) Directional energy flow contact points


This is a very effective treatment for sciatica. The relaxation in the groins relieves the anterior muscle tenslon and paIn.
Thumb is sunk well down without force into umbilicus and directional pressure given. Avoid pressure on the abdominal aorta on left side of umbilicus.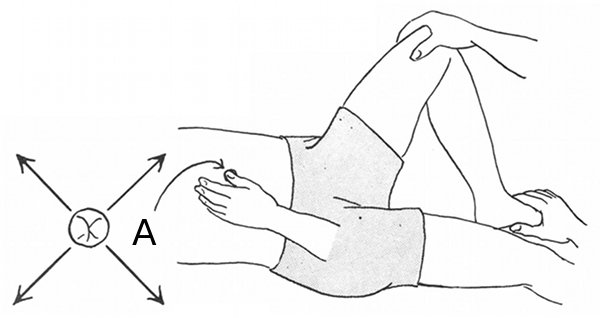 (A) Umbilicus


Single contacts for each side - knee and umbilicus or foot and umbiucus. Use a firm contact on knee or foot, with or without motion.

Book 6, Chart 3 ~ Book 6, Chart 5
American Polarity Therapy Association
Copyright 2012 EnergySchool Foundation
Text & images from Randolph Stone, Polarity Therapy Vol. I & Vol. II, CRCS PO Box 1460, Sebastopol, CA 95473
Thanks to the American Polarity Therapy Association and CRCS Publications for supporting this project.