Support DigitalDrStone!This site is a free service for Polarity Therapy practitioners, students and teachers, with the intention of expanding Polarity Therapy by making it more accessible. It is owned and operated by a non-profit organization, EnergySchool Foundation, with the support and permission of numerous other individuals and corporations as described in the Acknowledgements section. Please consider making a tax-deductible donation to support our continued presence by using this Paypal button to send a contribution.
Polarity Therapy Volume 2, Book 5

Chart No. 2 - Structural Balance Functional Contacts
As above, so below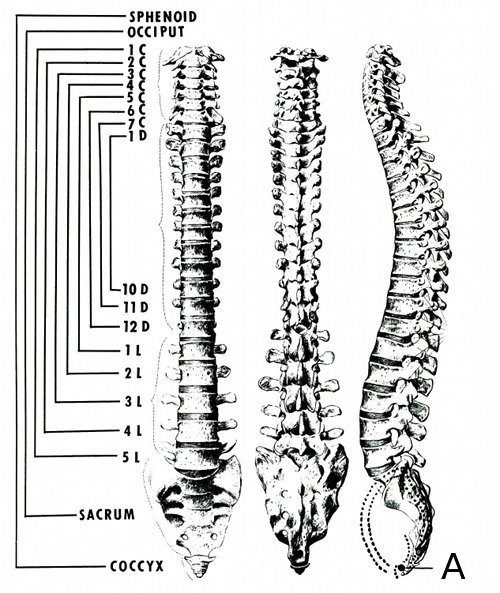 Energy impulses flow downward and outward. Sensory and structural reflexes flow upward and inward. The geometric proportion of two ends depends on polarity currents for balance between them and with gravity outside. Gravity is but the mirror to show polarity distortions.
Dotted lines are contact points for pelvic therapy, for prostate, bladder, uterus and lower back pains. (See Chart No. 8 on page 81 and pages 82, 83 and 84 in Book I.)


(A) Ganglion of impar
Illustration Keywords: sphenoid, occiput, 1C [C1], 2C [C2], 3C [C3], 4C [C4], 5C [C5], 6C [C6], 7C [C7], 1D [T1], 10D [T10], 11D [T11], 12D [T12], 1L [L1], 2L [L2], 3L [L3], 4L [L4], 5L [L5], sacrum, coccyx, cervical, dorsal [thoracic], lumbar

Book 5, Chart 1 ~ Book 5, Chart 3

Book 5, "Explanation of Chart No. 2"
American Polarity Therapy Association
Copyright 2012 EnergySchool Foundation
Text & images from Randolph Stone, Polarity Therapy Vol. I & Vol. II, CRCS PO Box 1460, Sebastopol, CA 95473
Thanks to the American Polarity Therapy Association and CRCS Publications for supporting this project.