Support DigitalDrStone!This site is a free service for Polarity Therapy practitioners, students and teachers, with the intention of expanding Polarity Therapy by making it more accessible. It is owned and operated by a non-profit organization, EnergySchool Foundation, with the support and permission of numerous other individuals and corporations as described in the Acknowledgements section. Please consider making a tax-deductible donation to support our continued presence by using this Paypal button to send a contribution.
Polarity Therapy Volume 2, Book 5

Chart No. 4 - Foundation Circuits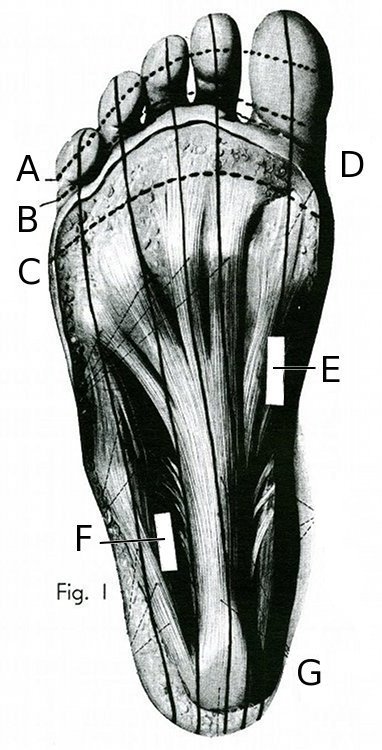 Fig. 1 shows the ligaments and connective tissue in their position for polarity response to influence the entire body posture. This is the foundation for structural correction. Elastic feet with a springy step indicate good vitality.


(A) Head

(B) Neck

(C) Shoulders

(D) Throat, thyroid, goiter

(E) Kidney

(F) Colon

(G) Sacrum
Fig. 2 shows muscles and tendons which assist in posture conditioning and in functional responses through polarity stimulation. "As below, so above."
Structures rest on foundations which must yield to the total impulse in motion.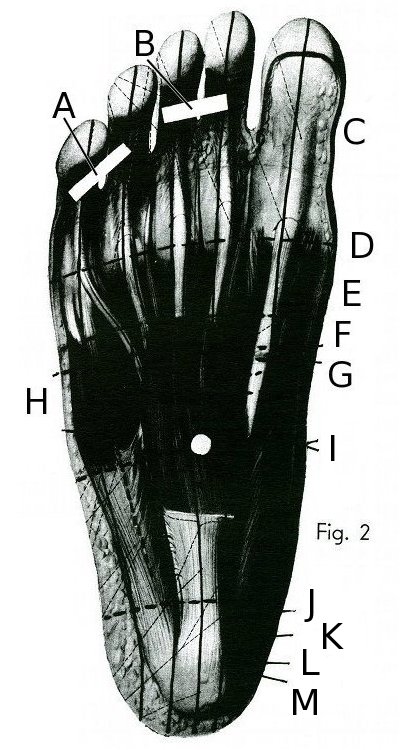 (A) Tonsils

(B) Throat

(C) Occiput

(D) Lungs

(E) Diaphragm

(F) Liver

(G) Kidneys

(H) Colon also top of foot

(I) Umbilicus, intestines

(J) Pelvis

(K) Uterus

(L) Bladder

(M) Prostate
Body centers found in the feet. Compare with Chart No. 4 in "Wireless Anatomy", Book 2.

Book 5, Chart 3 ~ Book 5, Chart 5

Book 5, "Explanation of Chart No. 4"
American Polarity Therapy Association
Copyright 2012 EnergySchool Foundation
Text & images from Randolph Stone, Polarity Therapy Vol. I & Vol. II, CRCS PO Box 1460, Sebastopol, CA 95473
Thanks to the American Polarity Therapy Association and CRCS Publications for supporting this project.