Support DigitalDrStone!This site is a free service for Polarity Therapy practitioners, students and teachers, with the intention of expanding Polarity Therapy by making it more accessible. It is owned and operated by a non-profit organization, EnergySchool Foundation, with the support and permission of numerous other individuals and corporations as described in the Acknowledgements section. Please consider making a tax-deductible donation to support our continued presence by using this Paypal button to send a contribution.
Polarity Therapy Volume 2, Book 5

Chart No. 5 - Acute Reflexes
The circle in the lower portion of the hand gives the polarity position of the umbilicus in this extremity. Everything above it corresponds to the area of the umbilicus in the body; and below the circle, everything below the umbilicus. See Chart No. 4 in Book 2. It is all mapped out there and can easily be seen. The wrist corresponds to the pelvis on that side. This illustration gives a fine picture of it. The soft palm area represents the anterior sensitive structure of the body.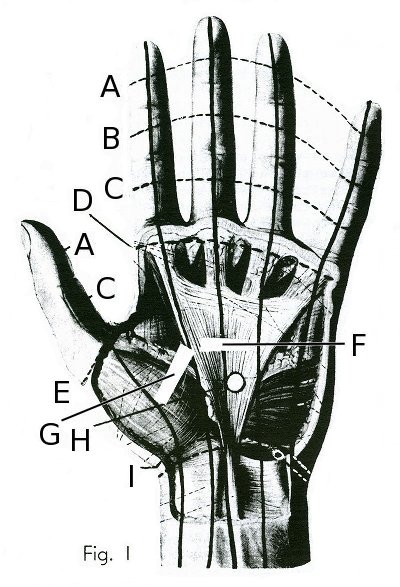 (A) Head

(B) Face

(C) Throat

(D) Shoulders

(E) Thyroid, goiter

(F) Heart

(G) Stomach

(H) Umbilicus

(I) Pelvis
The hands have a similar reflex as the feet only they are neuter [neutral] poles which react to acute conditions and leave very sore spots to be balanced. The nails correspond to the teeth. Neuralgias can be relieved by pressure at the root of the nails.
The back of the hand corresponds to the back of the body in its bony similarity. The regions for centers of response are the same as the front illustrations, only these are posterior.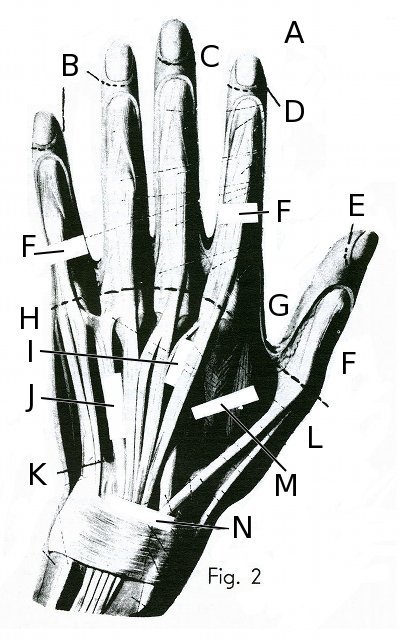 (A) Teeth, neuralgia release

(B) 3 [Three] molars

(C) 2 [Two] bicuspids

(D) 1 [One] canine

(E) 2 [Two] incisors

(F) Neck

(G) Throat

(H) Back of Shoulders

(I) Heart

(J) Kidney

(K) Sigmoid

(L) Circulation, 7th cervical [seventh cervical, C7], back of the neck

(M) Stomach

(N) Sacrum

Book 5, Chart 4 ~ Book 5, Chart 6

Book 5, "Explanation of Chart No. 5"
American Polarity Therapy Association
Copyright 2012 EnergySchool Foundation
Text & images from Randolph Stone, Polarity Therapy Vol. I & Vol. II, CRCS PO Box 1460, Sebastopol, CA 95473
Thanks to the American Polarity Therapy Association and CRCS Publications for supporting this project.