Support DigitalDrStone!This site is a free service for Polarity Therapy practitioners, students and teachers, with the intention of expanding Polarity Therapy by making it more accessible. It is owned and operated by a non-profit organization, EnergySchool Foundation, with the support and permission of numerous other individuals and corporations as described in the Acknowledgements section. Please consider making a tax-deductible donation to support our continued presence by using this Paypal button to send a contribution.
Polarity Therapy Volume 2, Book 5

Chart No. 18 - Occiput and Sacrum, Sphenoid and Coccyx Relationships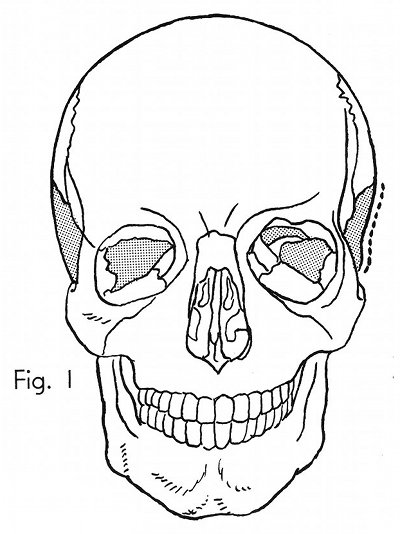 Fig. 1 shows the sphenoid bone areas on the skull, anteriorly, and the great wings, laterally. It is known that even a light pressure on the eyeballs changes the pulse beat. Whether the sphenoid is a factor in this is not yet determined.
The great wing on each side of the head is a contact point for balancing the spinal current with the coccyx on the opposite side. Being on the side of the head, the current crosses over to the other side, below.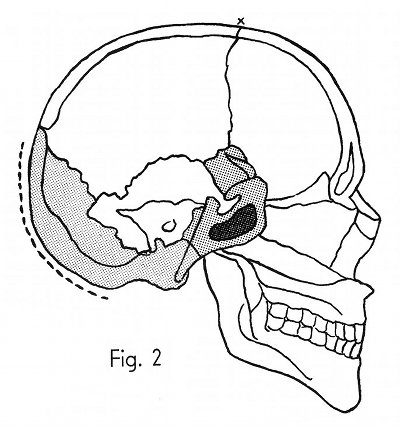 Fig. 2: The top of the head, at the sutures, marked 'X', is also a free thumb contact point for the central axis current in the body, together with a gentle contact on the tip of the coccyx with the middle finger of the other hand. The right hand below favors the upward, return current from the positive finger of the positive hand, to the neuter [neutral] thumb of the left or negative hand. Reversing the hands, favors the downward impulse of energy waves.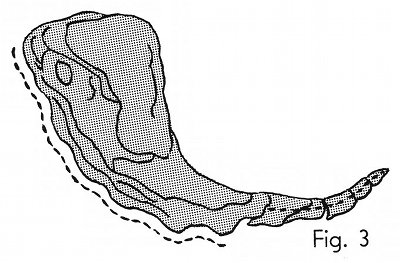 The relationship of the occiput and the sacrum, and the sphenoid and the coccyx is illustrated here as a continuation of articulations. Response of currents to contacts verifies this geometric arrangement, from the top of the spine to the bottom, as shown in Chart No. 2 in this book.
--- = Contact points in center and on both sides.
Right side of coccyx, left sphenoid.

Book 5, Chart 17 ~ Book 5, Chart 19
American Polarity Therapy Association
Copyright 2012 EnergySchool Foundation
Text & images from Randolph Stone, Polarity Therapy Vol. I & Vol. II, CRCS PO Box 1460, Sebastopol, CA 95473
Thanks to the American Polarity Therapy Association and CRCS Publications for supporting this project.